Western Libraries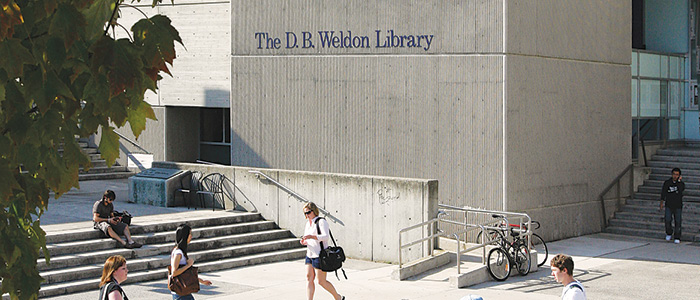 The fourth-largest academic library system in Canada, Western Libraries is dedicated to supporting research, teaching and learning at Western. Western Libraries comprises eight service locations distributed across the University campus and is a member of the Ontario Council of University Libraries, the Canadian Association of Research Libraries and the Association of Research Libraries.
Recognized for the quality of its staff, the access and services provided, and its outstanding collections - which include over eleven million items in print, microform, and various other formats, as well as online access to tens of thousands of digital resources - Western Libraries supports the University's mission of providing the best student experience among Canada's leading research-intensive universities.
For a map of library locations across campus, please visit Western Libraries - Maps.
Prospective graduate students are also encouraged to visit Scholarship@Western. Scholarship@Western collects, disseminates, archives, and preserves a variety of materials created or sponsored by The University of Western Ontario community. It aims to facilitate knowledge sharing by providing open access to the academic and professional achievements at Western. Please note that journal articles available from Scholarship@Western may not be the final published version.