Job Market and Opportunities
Job Market and Opportunities
The Job Market
The most frequently asked questions we get from students are about what happens after one graduates. Some of the questions that they ask surround:
Employment Opportunities
"Despite serious economic challenges confronting the nation, computer science-related jobs are among the fastest-growing and highest paying over the next decade," said Alfred Spector, vice president of Research and Special Initiatives at Google, Inc. "These times require an increasing supply of diverse students exposed to rigorous and engaging computing courses at the K-12 level, and National Computer Science Education Week can help to reinforce this effort.", Quote from the ACM 2009 article on the U.S. House of Representatives passage of a resolution to raise the profile and highlight the importance of computer science and encourage study in the computer science field.
In the summer of 2011, a SD Times article states that "Computer science graduates now get more offers of employment than any other major." That same article quotes Annabelle Evans, a recent computer science graduate as saying "I got four different job offers while my friends in other majors getting any," she said. "When I picked my major, I knew there wouldn't be a lack of jobs as a computer scientist, and that was part of the appeal.". Evans now works at Google.
Want a job? Get a computer science degree!. A February 2010 article from Network World is focused on the solid job prospects in the computer science field!
A computer science degree will lead you to one of the most satisfying jobs in North America according to a 2013 survey by Career Cast. Notice that both the second highest ranked job and the third highest ranked job both would benefit from an employee with a computer science degree!
A computer science degree also is one of the few degrees you can graduate with and find a job almost immediately, without having to do further training or do post graduate work.
The following chart shows the employment opportunities for four different areas in science:
(from left to right) Engineering, Physical Sciences, Computer Science and Biological Sciences.
Companies are Hiring
Labour Shortage in Canada's Information, Communications and Technology Market!
Canada's ICT sector, representing the country's information, communications and technology employment base, is facing alarming skills and labour shortages in the next five years.
Gaming Companies
If you are hoping your career path leads you into the exciting world of gaming programming, a Computer Science Degree from Western University with a specialty in "Game design and development" is one of the best ways to open the doors to those very companies.
Think that all the good gaming jobs are in the United States? THINK AGAIN! So then you may be thinking: "Yeah, but all the Canadian ones are only in Toronto or Vancouver". THINK AGAIN!
Here are some located right here in London, Ontario
Check out this website with all the gaming companies in Canada http://www.candevs.ca/
Computer Careers
There is a wide range of possibilities for Computer Science graduates. We have alumni working for Boeing, Northrop, Intel, Google, Apple, Microsoft, Electronic Arts, Amazon, Pixar, SAP, business corporations, engineering companies, hospitals, and missionary organizations. Every company has a need for a computer graduate, whether it is to develop new products, research, program, train etc. The demand is there.
Many of our graduates have gotten jobs as:
Software Developers


Programmers developing web portals and E-commerce applications connecting web interfaces to database systems
Conducting data analysis and scientific computing
Developing programs for linguistic analysis

Game Developers

Talented programmers are needed in this challenging and rewarding industry, with some positions requiring specialization in graphics, artificial intelligence, and networking, and others requiring highly skilled software engineering experience.

Information Technology Specialists

Providing system administration
Networking
Hardware and software support

Researchers

Computer science researchers are in high demand throughout the world. A computer scientist just has to decide what area of study he/she wishes to pursue. For example, if one is passionate about medicine, a great research opportunity for a Computer Science student is a position at the Robarts Research Institute.
Many of our Computer Science graduates are doing cutting edge research in medical imaging, cell biology, vascular biology, genomics, immunology and stem cell biology. For more details go to Robarts Research Institute.

Professors and High School Teachers

Public and high school teachers are needed to teach computer science concepts to prepare students with the next set of skills to keep up with the technological demands in the workforce.
Professors provide the necessary background and course curriculum to ensure that graduates are prepared for the workforce. They do research and work with graduates on cutting edge projects, sometimes in conjunction with companies.

Trainers for Application Support

There is a demand for training the staff of an organization on how to use computer applications. Many start up private companies to provide training and support to small through large businesses.
Quotes From Some Computer Science Alumni
Jaafer Haider
Founder and CEO of Sensidea
Class of 1999


"Computer Science at Western prepared me to understand the foundations of all this great technology we have today. Whether it's web, mobile, or the next big thing, these foundations are being built upon to create some amazing things and I'm armed with the knowledge to be a part of it all. Gain the knowledge at UWO and the digital future you help create is up to you!"

Dan Siemon
Systems Engineer - Sandvine Inc.
Class of 2007


"Computer Science at Western has given me a strong foundation both in the practical and theoretical aspects of Computer Science. On several occasions I've been pleasantly surprised to discover that I was exposed to topics that were not covered at other Universities. Even if you are already good with computers, do not under-estimate the value of a CS degree. Knowledge of the fundamentals will only increase your ability to understand problems and innovate."

Karen Yang
IT Consultant, CGI
Class of 2004


"The computer science program at Western provided me with in-depth knowledge in abstract theories and trained me in logical thinking. This experience, coupled with UWO's internship program, has opened up many doors for me and has given me a competitive advantage in the workplace."
Cutting-Edge Industry Projects
IBM Computer Program To Take On 'Jeopardy!'
February 8, 2009
(from www.slashdot.org)
"IBM plans to announce Monday that it is in the final stages of completing a computer program to compete against human 'Jeopardy!' contestants. If the program beats the humans, the field of artificial intelligence will have made a leap forward. ... The team is aiming not at a true thinking machine but at a new class of software that can 'understand' human questions and respond to them correctly. Such a program would have enormous economic implications... Read article
IBM Scientists Build Computer Chips From DNA
August 17, 2009
(from www.slashdot.org and www.infoworld.com)
Scientists at IBM are experimenting with using DNA molecules as a way to create tiny circuits that could form the basis of smaller, more powerful computer chips. The technique builds on work done by Cal Tech's Paul Rothemund, who found that DNA molecules can be made to 'self-assemble' into tiny forms [PDF] such as triangles, squares and stars. 'To make a chip, the scientists first create lithographic templates using traditional chip making techniques. After, they pour a DNA solution over the surface of the silicon and the tiny triangles and squares — what the scientists call DNA origami — line themselves up to the patterns etched out using lithography.' DNA-based chips may sound like crackpot tech, but those involved believe the methodology could lead to a new way of fabricating features on the surface of chips that allows semiconductors to be made even smaller, faster and more power-efficient than they are today." Read article in slashdot.org and Read article in Info World
Salary Comparisons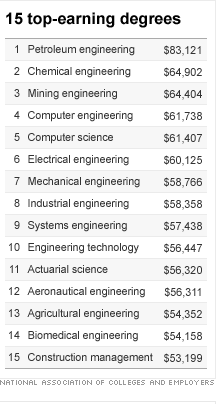 According to CNNMoney, numbers 4 and 5 on the list of "15 Top Earning Degrees" are computer engineering and computer science degrees. Read these articles to find out what a computer science graduate could potentially earn:
Occupational Outlook Handbook, 2008-09 Edition
The rapid and widespread use of computers and information technology has generated a need for highly trained workers proficient in various job functions. These computer specialists include computer scientists, database administrators, and network systems and data communication analysts. Job tasks and occupational titles used to describe these workers evolve rapidly and continually, reflecting new areas of specialization or changes in technology, as well as the preferences and practices of employers. Read More
Canadian Salary Range - Information Technology
The Canadian Salary Survey provides a summary of the range of salaries that are currently being earned by professionals in each of numerous occupations appearing on the General Occupations List.
The following table represents a survey of starting salaries and consultancy fees (all figures in CAD$) for information technology professionals in Canada.
Canadian Salary Range Calculator - The Canada Salary Calculator will give you an idea about typical salaries in every region of Canada. It's easy to use. Just enter the job category and area of Canada that interests you, select a job title and the Canada Salary Calculator will create a Salary Report for you.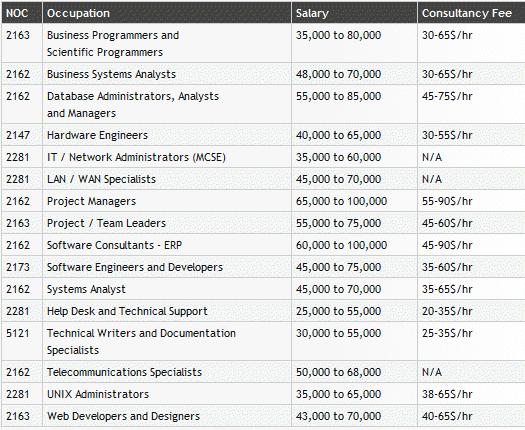 More Resources
Computing Careers Guide:  The field of computing has expanded rapidly over the past 10-15 years, and students need better information about the field and its related careers.     In reality, there is no single computing discipline but at least five. Including different sub-specialties, there are dozens of possible computing educational paths for prospective students.   FREE computing carees guide available here:  https://ceric.ca/resource/computing-disciplines-quick-guide-prospective-students-career-advisors/