<![if !vml]>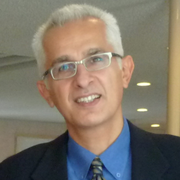 <![endif]>
Dr. Kamran Sedig
About Me
Bio
I am a Professor in the Department of Computer Science and the Faculty of Information and Media Studies at Western University. I am the director of the Insight Lab, where we investigate how to design interactive technologies to better support human mental activities that involve working with data and information, such as decision making, problem solving, and learning.
Before joining Western, I was a Research Staff Member at the IBM T.J. Watson Research Center in New York. Prior to that, I worked overseas as well as in the aerospace industry.
I received my Ph.D. in Computer Science (Human-Computer Interaction) from The University of British Columbia under the supervision of Prof. Maria Klawe. My research was nominated for the Governor Generalís Gold Medal for best Ph.D. dissertation. My M.Sc. was in Computer Science (Artificial Intelligence) from McGill University under the supervision of Prof. Renato De Mori. And my B.Sc. was in Computer Engineering and Science from Concordia University. I was the Valedictorian of the Faculty of Engineering and Computer Science, graduating with The Most Great Distinction.