Peter Scheyen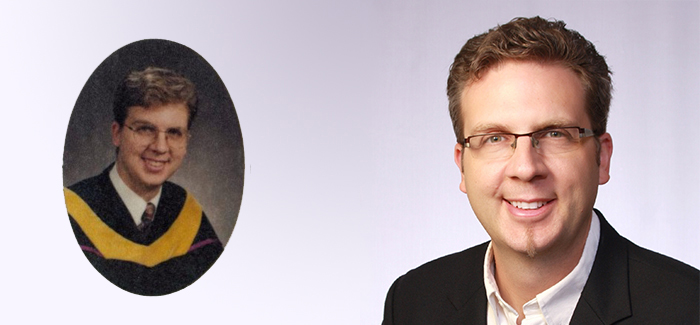 Peter Scheyen graduated from Western Computer Science in 1992 with an HBSc in Computer Science (with Psychology) focusing on artificial intelligence and natural language processing. He also earned an MSc Computer Science from Western in 1994 with a thesis entitled "New Constructs for Implementing Generic Functions and Parameterized Classes in C++" under the supervision of Dr. Sheng Yu, a mentor who is dearly missed.
Peter's early career didn't stray far from Western Computer Science. Summer NSERC positions kept him on campus and his first job after graduating was with the department as a sort of code jockey that could be tapped by faculty when needed. These early experiences with the department cemented a lifelong interest in technology, product creation, and exploration.
When Peter finally did leave Western he accepted a software developer position with Cableshare, a small technology company located in London that developed interactive television systems. Leveraging his academic experience in C++ and software development, Peter rapidly moved into technical leadership positions as the company grew. Over time, Cableshare made its way into the hands of a silicon valley company called Liberate Technologies where Peter was fortunate enough to meet some key mentors who helped shape his approach to software development, quality, team building and leadership. Liberate itself was eventually swallowed by Comcast, the massive U.S. media and cable conglomerate, where Peter held positions of VP Engineering and VP Technology.
In 2009, Peter found his way back to Western once again as Chief Technology Officer at the Richard Ivey School of business. While at Ivey Peter was fortunate to work with a small but talented, multidisciplinary team and added some operational experience to previous experience in product development.
It was his deep interest in technology and product development that drew Peter back to pure software development again and in 2012 he accepted his current position as CTO at Cineplex Digital Networks (formerly EK3 Technologies). At Cineplex Digital Networks, Peter is responsible for envisioning and delivering high quality digital in-store merchandizing solutions for customers such as Tim Hortons, McDonald's, Wal-mart, Royal Bank, BMO, Target.
Peter lives in London, ON with his wife, Annette and three children. His professional interests include distributed systems, Agile Software Development methodologies, team collaboration, leadership, and fostering innovation in teams. His personal interests include fitness, running, and home automation. Peter currently sits on the Western Computer Science department advisory council.