Lucian Ilie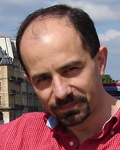 Professor
Office: Middlesex College 368
Tel:519-661-2111 ext. 86848
Email:ilie@csd.uwo.ca
Lucian Ilie obtained his PhD degree in 1999 from the University of Turku, Finland and has been Professor in Computer Science at the University of Western Ontario, Canada since 2000. His research is in bioinformatics, machine learning, and string algorithms. He currently designs algorithms and software tools for bioinformatics problems. He is known for his work in sequence alignment using spaced seeds, DNA sequencing data, error correction, read mapping, and genome assembly, protein-interaction prediction, oligonucleotide design, full index-based string algorithms, and combinatorics of string repetitions.
Bioinformatics
Machine Learning
String algorithms
A. Mallik, L. Ilie, ALeS: Adaptive-length spaced seed design, Bioinformatics (2020) btaa945.
Y. Li, G.B. Golding, L. Ilie, DELPHI: accurate deep ensemble model for protein interaction sites prediction, Bioinformatics (2021) 37(7) 896 – 904.
M. Molnar, E. Haghshenas, L. Ilie, SAGE2: Parallel Human Genome Assembly, Bioinformatics (2018) 34(4) 678 – 680.
N. Khiste, L. Ilie, HISEA: HIerarchical SEed Aligner for PacBio data, BMC Bioinformatics (2017) 18(1) 564.
Y. Li, L. Ilie, SPRINT: Ultrafast protein-protein interaction prediction of the entire human interactome, BMC Bioinformatics (2017) 18 485.
N. Khiste, L. Ilie, E-MEM: Efficient computation of Maximal Exact Matches for very large genomes, Bioinformatics (2015) 31(4) 509 – 514.
M. Molnar, L. Ilie, Correcting Illumina data, Briefings in Bioinformatics (2014) 16(4) 588 – 599.
L. Ilie, B. Haider, M. Molnar, R. Solis-Oba, SAGE: String-graph Assembly of GEnomes, BMC Bioinformatics (2014) 15(1) 302.
L. Ilie, M. Molnar, RACER: Rapid and Accurate Correction of Errors in Reads, Bioinformatics (2013) 29(19) 2490 – 2493.
L. Ilie, H. Mohamadi, G.B. Golding, W.F. Smyth, BOND: Basic OligoNucleotide Design, BMC Bioinformatics (2013) 14(1) 69.
Courses taught in 2020-21:
Fall 2020 -- CS3331 -- Foundations of Computer Science

 Winter 2021 -- CS3342 -- Organization of Programming Languages

 Winter 2021 -- CS9877/4463 -- Research Topics in Genomics and Proteomics
Humboldt fellowship, Magdeburg, Germany, Oct. 2000 – Sep. 2001.

 CNRS Visiting Professor, Centre National de la Recherche Scientifique, Universite Paris-Est, France, Sep. 2006 - Jun. 2007

 Faculty Scholar Award, University of Western Ontario, 2009 – 2011.