Mike Katchabaw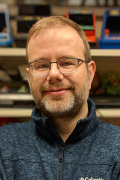 Associate Professor
Office: Middlesex College 28H
Tel: 519-661-2111 ext. 84059
Email:katchab@csd.uwo.ca
Dr. Katchabaw is an Associate Professor in the Department of Computer Science at Western University.  His research is focused on Game Design and Development.  Dr. Katchabaw received his Ph.D. from Western University in 2002 after entering the program immediately following the completion of his B.Sc. at the top of his class.  In 2002, Dr. Katchabaw joined the Department of Computer Science at Western.
My research interests primarily revolve around the design and development of video games.  Yes, video games.  How do we create better experiences for players?  How do we create games in better ways?   There are a lot of complex computing challenges in answering these questions, and these challenges intersect with the arts, social sciences, sciences, business, and various other disciplines in a variety of interesting ways.   
In particular, my research touches on game analytics, storytelling, believable artificial intelligence, procedural content generation, adaptive games and game systems, and more.   A lot of interesting collaborations and a lot of interactions with a thriving and growing industry.
It's not all fun and games.  But there's definitely fun.  And games.
Milambiling, M. Katchabaw, and D. Slogar. Integrating Social and Textual Analytics into Game Analytics.  Appeared in Data Analytics Applications in Gaming and Entertainment, Edited by G. Wallner.  Published by CRC Press, June 2019.
Forgette and M. Katchabaw. Learned Behavior: Enabling Believable Virtual Characters Through Reinforcement. Appeared in Integrating Cognitive Architectures into Virtual Character Design, Edited by J. Turner, M. Nixon, U. Bernardet, and S. DiPaola. Published by IGI Global, June 2016.
Bailey, J. You, G. Acton, A. Rankin, and M. Katchabaw. Believability Through Psychosocial Behaviour:  Creating Bots That Are More Engaging and Entertaining. Appeared in Believable Bots:  Can Computers Play Like People?  Edited by Philip Hingston. Springer, December 2012.
CS3307 – Object-Oriented Design and Analysis – Fall 2020
CS3357 – Computer Networks I – Fall 2020
CS4480 – Game Development Project – Fall/Winter 2020
CS4483/9541 – Game Design – Winter 2020
Philosophy 9232/9234 – Ethical and Societal Implications of Artificial Intelligence – Winter 2020