Nazim Madhavji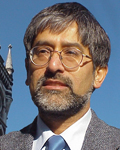 Professor
Office: Middlesex College 381
Tel: 519-661-2111 ext. 83561
Email:nazim@csd.uwo.ca
Nazim H. Madhavji is a Professor in the Department of Computer Science at the University of Western Ontario, Canada. His research interests cover such topic as:
Big Data applications development
Cloud platform engineering
The interplay between requirements and system architectures
Multiple component defects and architectural degeneration
Software quality and metrics
Regulatory compliance in system development
Empirical studies
Research is often conducted in industrial contexts. He has led a number of projects, involving corporations such as IBM Canada, Sun Microsystems, DMR Group, CAE Electronics, Transport Canada, Siemens, SIG, and CRIM, and was a Principal Investigator in several multi-university projects. He holds a joint patent with IBM Canada.
He has served on the Editorial Boards of several scientific journals and has served as Chair/Co-chair of, or as Program Committee member, of numerous international scientific conferences and workshops in the field of software engineering.
He has published widely in scientific conferences and journals, and his papers have been ranked among the best papers of conferences.
He is a consultant to several organisations in the field of software and to several universities internationally in the areas of Software Engineering research, pedagogy, and faculty and student development.
Big Data applications development
Cloud platform engineering
The interplay between requirements and system architectures
Multiple component defects and architectural degeneration
Software quality and metrics
Regulatory compliance in system development
Empirical studies
Software Architectures
Software Engineering for Big Data Applications and Analytics
Requirements Engineering
Empirical Research Methods
Undergraduate Thesis
Capstone Projects
Open Source and Mainframe projects in Industry