Classmates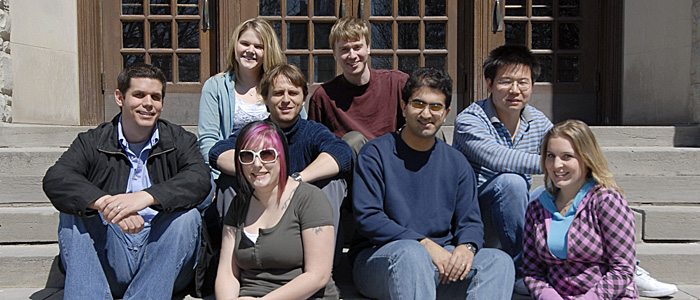 Western University is a premier learning and research institution that has produced generations of graduates who have gone on to become leaders in all areas of society and industry.
Here, our students and graduates describe their experience and provide testimonials to our Computer Science Department's outstanding reputation.
---
Jenna Cameron
Sarnia, Ontario
| | |
| --- | --- |
| | "The capacity for growth in computer science at Western is amazing! There are brilliant faculty who truly want their students to do well; they have always encouraged us to study what we find interesting. The students are close & supportive, and the socials we have complement the awesome learning here. From making video games, to robots, to using bacteria as computers, you can find a place to do it at Western!" |
---
Derek Vince
Dorchester, Ontario
| | |
| --- | --- |
| | "Computer Science at Western has been about so much more than just the courses. It's opened opportunities for me that I wouldn't have ever dreamed possible, and introduced me to people I will never forget. Studying Computer Science at Western has been, for lack of better words, the experience of a life time!" |
---
Nick Yang
Toronto, Ontario
| | |
| --- | --- |
| | "With a brilliant faculty, friendly atmosphere and small class size, Western has no doubt, one of the best Computer Science programs in Canada. Professors here genuinely care about a student's success. The students are smart, open and friendly. The experience at UWO has led me to meet countless amazing individuals and opened up a world of possibilities that didn't exist before. I highly recommend anyone interested in Computer Science to consider UWO, you won't be disappointed." |
Meet our Alumni
Jaafer Haider
Founder and CEO of Sensidea
| | |
| --- | --- |
| | "Computer Science at Western prepared me to understand the foundations of all this great technology we have today. Whether it's web, mobile, or the next big thing, these foundations are being built upon to create some amazing things and I'm armed with the knowledge to be a part of it all. Gain the knowledge at UWO and the digital future you help create is up to you!" |
---
Dan Siemon
Systems Engineer - Sandvine Inc.
| | |
| --- | --- |
| | "Computer Science at Western has given me a strong foundation both in the practical and theoretical aspects of Computer Science. On several occasions I've been pleasantly surprised to discover that I was exposed to topics that were not covered at other Universities. Even if you are already good with computers, do not under-estimate the value of a CS degree. Knowledge of the fundamentals will only increase your ability to understand problems and innovate." |
---
Karen Yang
IT Consultant, CGI
| | |
| --- | --- |
| | "The computer science program at Western provided me with in-depth knowledge in abstract theories and trained me in logical thinking. This experience, coupled with UWO's internship program, has opened up many doors for me and has given me a competitive advantage in the workplace." |