The Early Years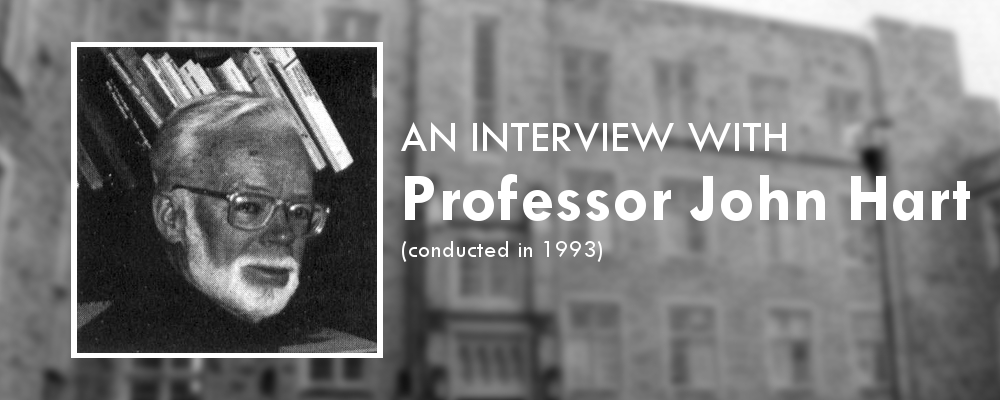 Professor John Hart, Head of the Department of Computer Science at Western from 1964 to 1978, spoke with Interface (an early departmental magazine) about the "early years", a time of rapid and sometimes confusing growth, both in the subject and the Department. John passed away in 2002.
Interface:

What was the situation in computing when you came to Western in 1959?

Hart:

It began with a push for computers. The push came primarily from Physics. Don Misener was Head of the Department of Physics and also Chair of the newly-formed Computer Committee. Geophysics and Chemistry were also active on the committee as it tested some prototype processors. At the time both analog and digital computers were being considered - primarily for calculations in the laboratories.
Interface:

What experience did you bring with you to Western?

Hart:

I had been employed since 1953 as a programmer for the National Research Council stationed at the University of Toronto Computing Centre. FERUT (an acronym for Feranti at U of T) was the first mainframe machine in Canada, built by Feranti in England. The hardware memory consisted of a magnetic drum and short-term or volatile memory consisted of two circular Williams tubes comprising 48-bit words that made up the console. Full words could be toggled into the Williams tubes by a row of switches immediately below them. The British programmers who installed the FERUT could play those switches like a piano when entering their 128-line program. The screens had a read stroke and a refresh stroke, the instruction speeds were millisecond rate, and I/O was by paper tape. The machine came with next to no programs and for the first few years, everyone worked in a machine language in which all the instructions and locations were written as labels constructed from an odd mix of all the characters on a standard typewriter keyboard.
Interface:

Isn't all that entirely out of date now?

Hart:

So it seems, but in essence not entirely. Charles Dunham was telling me recently that correctness has become an issue for machines that dispensed with the comparison instruction. There was an instruction we called the "sideways adder" that didn't outlast FERUT. That machine, by the way, internal refrigeration unit and all, had to be lifted by crane into the McLennan Laboratory through the roof. Good place to keep cold drinks and lunches!
Interface:

How about the organization at Western after you arrived? And what about the computing activities in different areas?

Hart:

Every department that did calculations used the Munro Calculator. There was little difference between science and accounting except the forms used to present the numeric results. Plans for a future computing facility for the University as a whole were assigned to the computer committee chaired by Donald Misener with myself as Secretary. After the first year of operation I reported directly, as Director, to the University President, Edward Hall.
Interface:

What was your mandate as Director? Surely all the functions that ultimately came to be associated with computing were not anticipated at the very beginning.

Hart:

As Dr. Hall put it, my primary role was to automate the payroll. As soon as that was under way, I could begin an academic program. To facilitate both objectives, I was told I could hire a programmer in each area and my appointments on the academic side (including myself) were in mathematics, whereas those involved in accounting activities reported to Bob Glover, the Chief Accountant. For almost a year, the entire staff to run our new IBM 650 consisted of Ellen Moll and me. We divided all the functions between us. In the second year we were joined by Bill Denton and Ken Stansfield for business programming and scientific programming, respectively. The whole thing was so new that we had to go out looking for work, except for the research projects I brought from the NRC [National Research Council] and the University of Toronto. The first was an eigenvalue problem commissioned by Gerhard Herzberg who later became one of Canada's Nobel Prize winning physicists. The second project involved the best approximation of functions. I had begun that in collaboration with Wally Fraser who was the DRB programmer at U of T and who continued to provide the main theoretical impetus for a number of years after he moved to Guelph. When Charles Dunham joined us, he took over research on approximations.
Interface:

So, was computer science defined at that time as numerical analysis plus business systems?

Hart:

This was a time of very rapid change throughout North America and I think our situation was rather unusual because of a triple mix of research, accounting and academic computing all lumped together. Moving from the President's mandate to full development in all areas was further complicated by administrative support. We very quickly needed to define another triple, namely lack of space, lack of equipment and lack of specialists across a wide spectrum, both theoretical and applied.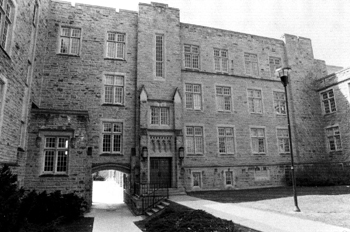 Interface:

Didn't the Computer Science Department wander about for many years without a home?

Hart:

That's a pretty interesting story. I think we moved five times in eleven years. Initially we were in Stevenson Hall, almost directly under the office of the President. We had an eight foot by eight foot office across the hall from the 650 machine room and, despite our research and academic activities, were considered more as "staff function" than "line function". The senior management of IBM would drop by to see us en route to Dr. Hall's office.
Before I continue this little history, I should say something about the way the University operated when it was still small. There were few committees and most of them were advisory. On major issues I would go directly to the President but on minor ones I would operate without consultation. I came to have great respect for Dr. Hall; if he thought you could handle a position he would not interfere. He was the last administrator to attempt a dress code, something that most of the academics opposed. Ed Hall had only one rule of governing that I could see. It combined a respect for his lieutenants with an old-fashioned sense of fairness based on quid pro quo. Johnny Metras, Western's great coach, described how he argued vehemently with the administration over the stadium without getting satisfaction. But when he ran into Hall later, he was told, "What are you complaining about? You got half of what you wanted and I got half of what I wanted".
Interface:

That principle must have led to problems for a new computing unit trying to satisfy everyone's needs.

Hart:

Well, brinkmanship was normal in the early days. I have heard other managers in computing describe similar situations - usually connected with a change in mainframes. For us, this was a crucial issue. It came about the time that the IBM 650 was getting saturated in all three of its application areas. Denton, Stansfield and I benchmarked the computers then coming on the market. We used a surprising mix of scientific and data processing programs. Of the three machines we tested, two were acceptable to us and one was acceptable to Dr. Hall. Unfortunately, there was no overlap and the deadlock lasted six months. The stalemate was broken when IBM announced the 7040, the best machine to serve our mix of programs and functions.
Interface:

The arrival of the 7040, a machine ahead of its time and capable of running both scientific and accounting programs, must have accelerated activities in all areas. Or were there other obstacles to development?

Hart:

The period 1963-1964 when the 7040 arrived saw changes in many areas. When the computer arrived the academic group was down the hall from Bob Uffen, Principal of the College and Dean of Science. Meanwhile, Bill Denton and his group remained in Stevenson Hall. But the group's staff all moved into the newly constructed Natural Science Centre which had been designed, among other things, to accommodate a computing centre. At this point we had space and equipment but were lacking people to cover courses and research. Fortunately, this problem was solved beyond all expectation by a suggestion from Uffen. He was a physicist and, like Tuzo Wilson, a world traveller. While in Japan he had been told that scientists there were interested in university postings in Canada. Soon after learning that, I phoned Kyoto and invited Dr. Satoro Takasu to join us. No committee, just a quick exchange of letters and he came over. Takasu was joined soon after by Neil Jones and together they began development of an Algol compiler and taught courses in formal languages and automata.
This got us going with two top researchers but we still had an acute teaching shortage. In the following year we were fortunate to hire Michael Bennett and Fred Zabransky. The lure was a full salary and a chance to supervise graduate research since we then had a joint Masters program with Mathematics. The system that permitted me to make recommendations to the Dean without a committee failed in only one instance. We hired a programmer from the United States for a joint project with Geology in computerized map-making. I began to regret my decision almost as soon as the new programmer arrived. He told me that he had hoped to hunt some moose but Customs had seized his 30-30 at the border. We tried to encourage him to leave on the basis of his abysmal academic record but he persuaded the Graduate School that I had given him too much programming to do. In the end, when his background caught up with him, he was chased back across the border by the RCMP.
Interface:

The very next years, 1964-65, marked the establishment of a separate Computer Science Department. How did that happen?

Hart:

We were in the Natural Sciences Centre for less than a year when the triple use problem finally became unmanageable. For example, the honours students in Math and Computing would have their assignments held up whenever there was an unscheduled payroll. It was then that I finally persuaded Vice-President Roger Rossiter that it was necessary to make a tripartite division. So Computer Science came into existence in 1965 with myself as Head. The Administrative Center reported to the Vice President Administrative with Bill Denton as the interim Director. The University then proceeded to hire George Lake as the first Director of the Computing Center to provide facilities for research and teaching.
Interface:

How were the course contents and the name "Computer Science" arrived at?

Hart:

The guidelines for courses came mainly from the United States. By that time we were in close touch with a number of American universities, particularly the University of Michigan in Ann Arbor. At that time, the Association for Computing Machinery had begun to publish recommended curricula. Perhaps the decision to locate our department within the Faculty of Science, as well as the general popularity of the term "computer science" decided us in favour of the departmental name.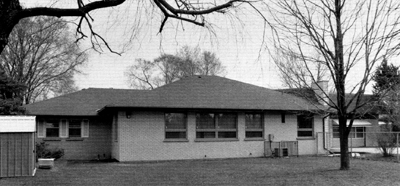 Interface:

The tripartite division must have left you once more without a home or did you stay in the new Science Centre?

Hart:

Space had become very sparse. Talbot College had just been completed but the Dentistry Department had been given the basement and there was nowhere else to go. Finally, we were relegated to the bungalows on Western Road. These eventually became a day care centre for faculty and staff. But our days in the bungalows were nevertheless good ones for the Department. Arto Salomaa joined us, as did Zenon Pylyshyn, Gerhard Beckhoff, Andy Szilard and Charles Dunham. And the year after that, in quick succession, we were joined by John Carroll, Irene Gargantini and Kee Dewdney. The bungalows were notable for poor acoustics and the pheasants from the adjoining Aziz property that came up close to the back windows. At least the bungalows brought us into tune with a new North American phenomenon. We had a computer in the garage, a DEC PDP-8.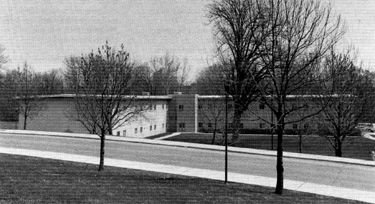 Interface:

How long did that sojourn last?

Hart:

I think it was two years. After that, in 1970, there was still no permanent home for us on campus, but we were given room in the staging building down on the Medway River flats. The computers (by then we had our own teaching machine as well as the PDP-8) were on the top floor at the back overlooking the river. The offices adjoined a Zoology annex that included the rat labs.
I think the main event of that time, now that we had a pretty complete complement in theoretical areas, was the group of teachers for the academic program. While still in the Western Road bungalows, we had been joined by Rosemary Newkirk, Pete Suttie and Ken Langland. Those were the days when we attempted to develop TV teaching to accommodate the large first year classes. In subsequent years we continued to do well in that regard, the tradition being maintained by Bev Colpitts, Don Macrae, Dick Beresford and Bob Martin. [All of the persons mentioned in this paragraph have since gone on to other jobs.]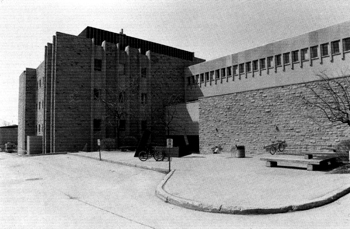 Interface:

Was that the end of the major changes or were there more to come?

Hart:

Before I resigned in 1975, the theoretical group expanded still further with the addition of Magnus Steinby, Jim Mullin, Don Kuehner and Ted Elcock. We moved once more, this time to the Engineering Building, our final move prior to Middlesex College. The main event of my last years as Head involved the acquisition of the newly manufactured DEC-10 and the development of R&D in artificial intelligence.
Interface:

We understand there's a story behind the DEC-10?

Hart:

The credit for the introduction of that machine belongs primarily to George Lake. He began a seminar on timesharing machines shortly after he arrived at Western. His experience with the DRB at Shirley Bay reflected Canada's growing expertise in computer development for satellite and communications applications. The Department collaborated with the Computing Centre in pushing for the famous new machine. We became the first University in Canada to acquire one and the eleventh worldwide.
Interface:

Are there any other features of the first 15 years that come to mind?

Hart:

In summary, I'd say that we were peripatetic in a different way than Plato and the ancient Greek philosophers. It was the Department that walked rather than the individuals, although none of us exactly stood still. But we had a connection with Philosophy that was important in another manner. During the sixties, we ran a seminar throughout the decade on cybernetics and general systems organized by Peter Denny in Psychology, John Davis in Philosophy and myself. By 1965 we could see that AI would be an important subject in computer science, that it would open whole areas of research. With the support of Dr. Rossiter and the active involvement of Ted Elcock, we held a national meeting with NRC support in the late 70s. This led to the formation of the Canadian Society for Computational Studies in Intelligence.