Student Experience
Surveys of student and alumni satisfaction, whether conducted by the media or by the University, consistently indicate a very high level of satisfaction with the student experience at Western. This is a tribute to the commitment of our faculty and staff and reflects the broad-based approach to intellectual, social, and personal development that characterizes student life at Western. It is a spirit embodied by all Western students and a testament to their level of engagement on campus.
Our services and programs are designed to enhance our graduate students' experiences and provide a supportive and stimulating academic environment. We offer a blend of structure and flexibility allowing our graduate students to develop personally and professionally in order to better prepare them for the intellectual demands of tomorrow.
GradPath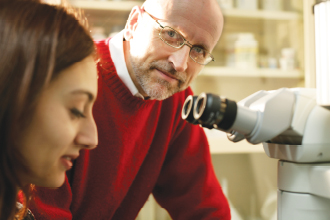 GradPath is your portal to graduate student professional development programs at Western. It highlights information and resources you will need to succeed at each stage of the graduate journey, from coursework through comprehensive exams, thesis writing and publishing to the job search after graduation.
Whether you are looking for help with grant writing, strategies for overcoming procrastination or opportunities to develop your conference presentation skills, GradPath will lead you to the programs on campus that will help you develop competencies you need to succeed in teaching, research and professional practice.
The Grad Club
The Grad Club, a wholly-owned subsidiary of the Society of Graduate Students, is a not-for-profit organization whose goal is to promote the interests of graduate students. A vibrant pub and restaurant for graduate students and faculty members, The Grad Club is the perfect place to meet new people and connect with friends and colleagues.
Campus Recreation
The Western Student Recreation Centre is a state-of-the-art facility that opened in 2009 and provides a number of services to meet the diverse fitness and recreation needs of all Western students. The 160,000-square-foot facility – one of the largest of its kind at a Canadian university – was opened in part through the largest student donation at a Canadian school in history.
The $35-million space is located adjacent to the Thompson Recreation and Athletic Centre and provides ample opportunity for busy students to make fitness a part of their lifestyle.
McIntosh Gallery
The McIntosh Gallery is a university-based public art gallery serving Western University and the surrounding community. Built in 1942, McIntosh Gallery is the oldest university art gallery in Ontario. Guided by its mission to provide a platform for engagement with visual art and artists, McIntosh Gallery offers a range of exhibitions, educational programs and special events year-round. Admission to McIntosh Gallery is free.
Over a third of some 3,500 works in the McIntosh Gallery Collection is on display throughout campus in public spaces and offices. You may browse through the campus on a self-guided walking tour to experience these public artworks at your own pace.
Student Clubs and the University Community Centre
With over 19,500 members belonging to more than 180 clubs, the Clubs Community of the University Students' Council is the easiest way for Western students to get involved at the University. Each USC Club has a specific niche in our campus community. Whatever your interest may be, there will most likely be a club that satisfies your interests.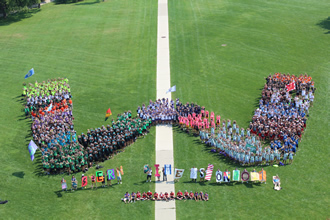 The University Students' Council is located in the University Community Centre (UCC), a comfortable environment that houses many useful services, campus organizations and retail outlets for students' convenience. Thousands of staff, faculty, and students walk through the doors of the UCC each day. In addition to popular restaurants including The Wave and The Spoke, the UCC is also home to Western's very own movie theatre. Featuring the lowest ticket prices in London, Western Film is open 7 nights a week and shows all the latest movies just a few weeks after they debut.